Regular price
₹447
Sale price
₹399
Unit price
per
Sale
Sold out
Bring the taste of Goa to your home with easy Goan Masalas - Just Marinate and Cook

Made with Natural Toddy (Coconut) Vinegar and premium spices to give you taste of Goa at home.

Hassle Free, Quick Indian Cooking - as No other Ingredients needed while cooking. No prep or chopping needed

100% Vegetarian. Use as Curry Paste to make Chicken, Mutton, Pork, Prawn, Fish, or veggies like Potato, Mushroom etc.

Packed in Single Use Pack - Makes 4 Serves. Keep Sealed, Use Dry spoon and store in Fridge once opened. Can be used for 9 months from date of manufacture

100% Natural, Non-GMO, Gluten-Free, No Added Colours/ No Added Flavours, No Preservatives, No MSG
 This is a Vegetarian Product
---
Ingredients
 

Ingredients: Goan Coconut Vinegar, Tamarind, chili, Black Pepper, Clove, Cinnamon, Cardamom, Ginger, Garlic, Salt, Sugar, Turmeric, Cumin

Ingredients: Goan Coconut Vinegar, Coriander, Green chili, Black Pepper, Clove, Cinnamon, Cardamom, Ginger, Garlic, Salt, Sugar, Turmeric, Cumin
---
Additional Details
| | |
| --- | --- |
| Cuisine | ‎Indian - Goa |
| Specialty | Tangy & Spicy |
| Ingredient Type | ‎Vegetarian |
| Form | ‎Paste |
| Serving Size | ‎4 portions |
| Country of Origin | ‎India  |
---
How To Use
Recheado marinade is used for fish and seafood.
Vindaloo marinade is used for heavy meats such as pork.
Cafreal marinade is used to cook chicken and light meats.
Net Weight: 50g sachet 
Storage: Once opened, Keep Refrigerated. Shelf Life: 9 Months



View full details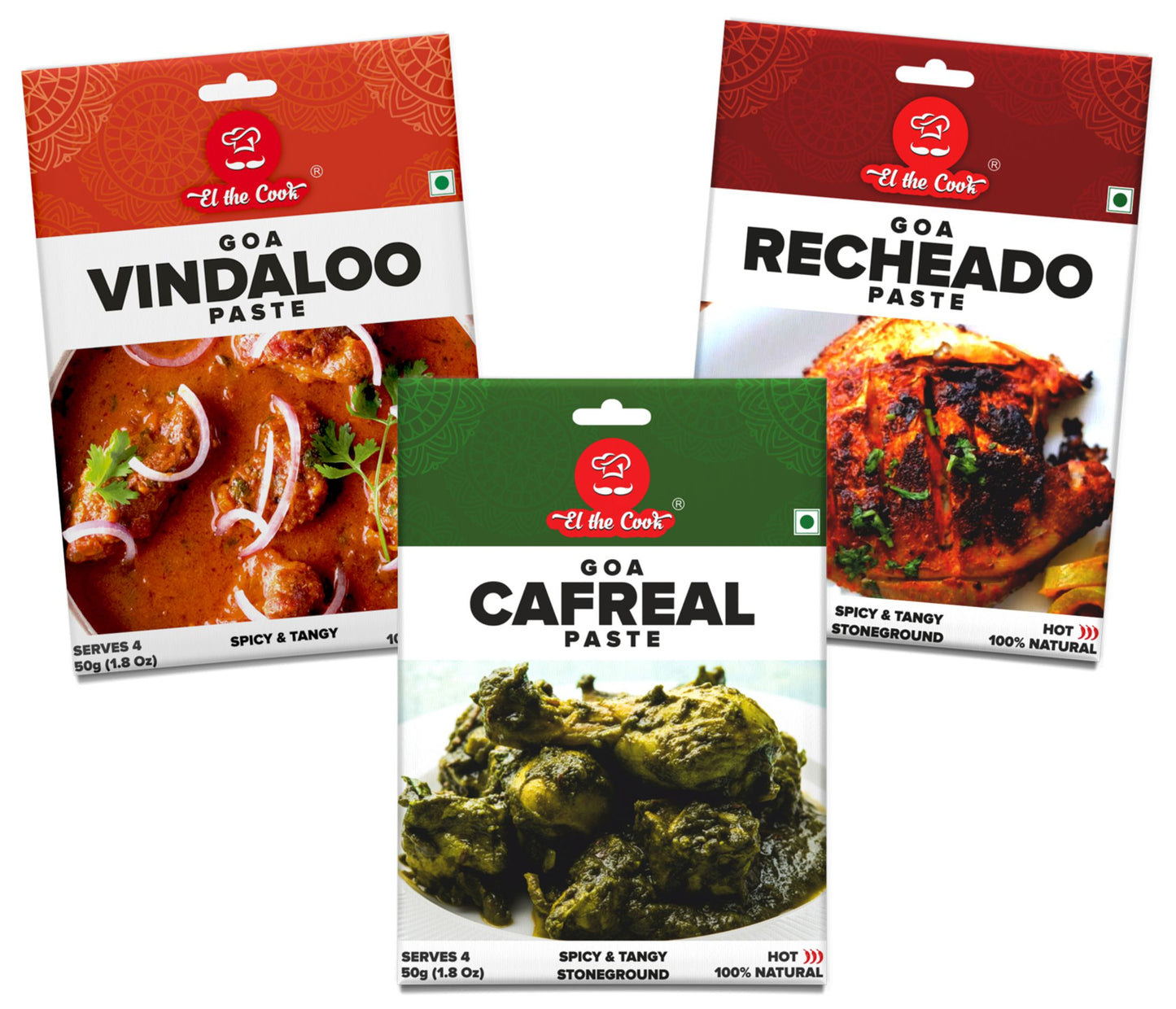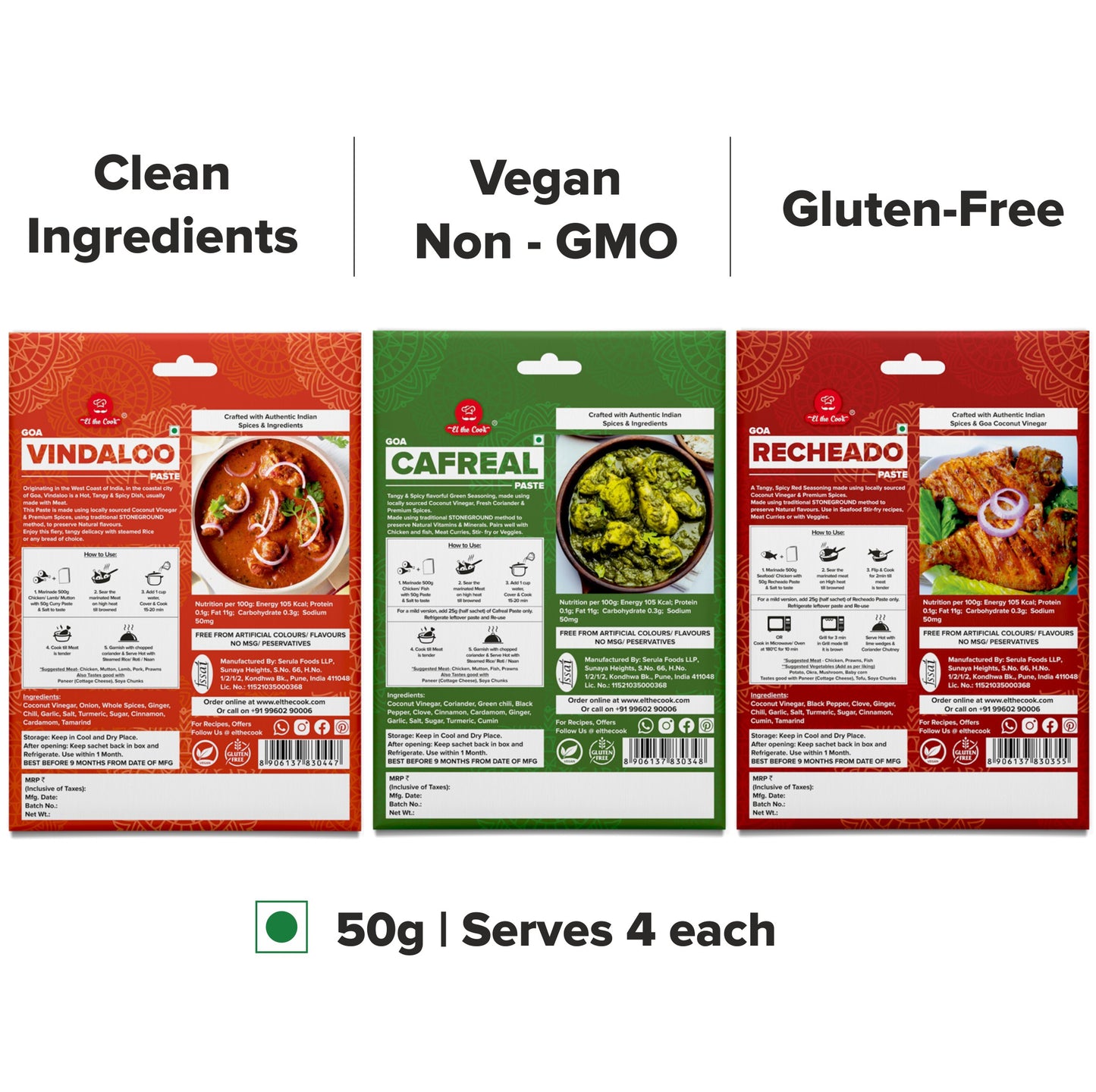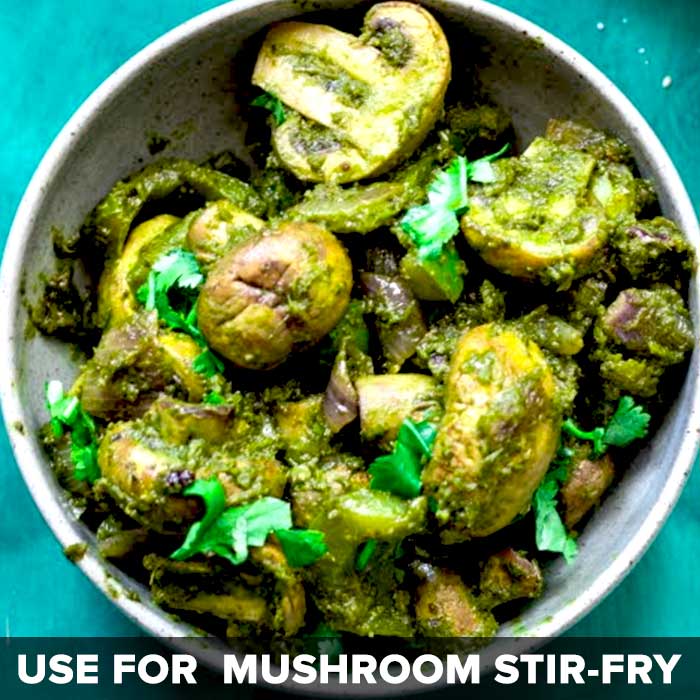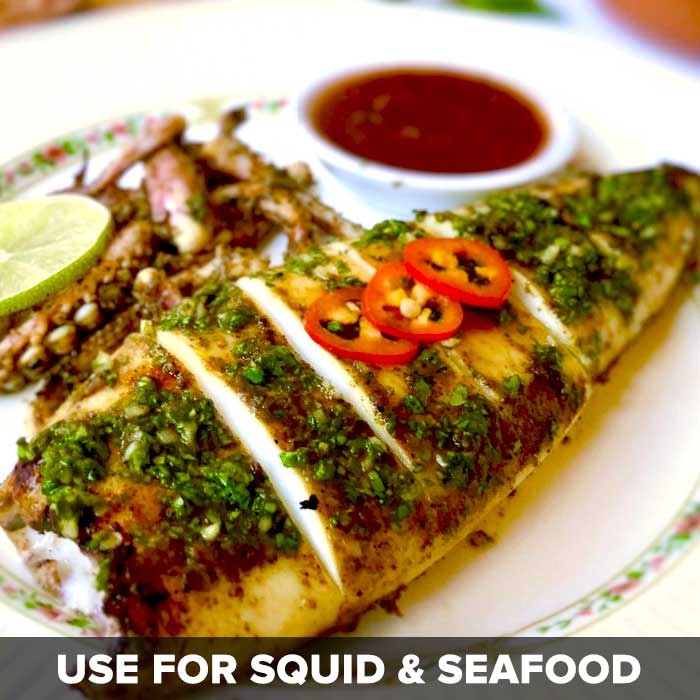 stunning flavor..took me right back to a goa beach
i remember having a cafreal chicken at a restaurant called Brittos in Goa. This was absolutely the SAME! its really amazing how accurate the flavors are..must try!
non veg dishes arenow easy for me to cook
Product was shipped pretty fast. Good quality and nice authentic taste but I think it could be a bit stronger.
2 thumbs up!
vindaloo paste was great to make my chicken curry. super simple recipe steps..
from pune to jabalpur in 3 days, great service
want a bit spicy, with extra some quantity
nice but shipping is expensive
was nice but quantity was too less so becomes expensive and gets over fast
Let customers speak for us
awesome, but the masala is very less in the packet. Charge a little more and put extra masala
nothing more authentic than it
Nothing Better than this in pre cooked paste category. This is so authentic. Go for it without doubt. Add extra spice and chillies if you like but spicy. On spice it's moderate.
best one
best readymade pastes spice mix, buying the same product for the last couple of months
great for restaurant use
So far the best biriyani masala available. I don't regret buying this in bulk.
super readymix
One of a best ready to mix. Purchase without tension. You will definitely love it.great addition to regular masalas in the kitchen.
Ease of Cooking
It was great to try this paste. Super easy, convenient and quick. I dont like cooking much but I love to eat..so this one is perfect for people like me. Meal was ready in less than half an hours time. Easy on your stomach and tastes good too.
highly recommended
This takes very much like the sauce I had from an actual Thai restaurant. I love this.
great for deep frying & crispy paneer cooking
Coming to the premix, this is an Authentic product and I can confidently tell this because I have consumed a lot of chinese food and can identify it anywhere.
nice combo
This is a great product and I would highly recommend it to anyone looking for something similar
excellent product
The best biryani mix I've ever tried. I'm a food lover & all biryani lover can try it.
best briyani masala, really loved it
My friends recommended me the vegetable biryani paste used as whole and it was very easy and simple to cook.